Who is treated in the Specialized Transition Program at Kennedy Krieger?
During fiscal year 2019*, 117 patients were treated by the Specialized Transition Program at Kennedy Krieger.
Below is the age breakdown of those patients: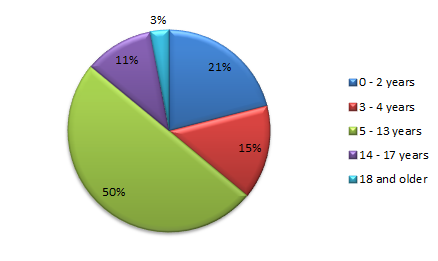 ​
​
Diagnoses Treated
The Specialized Transition Program treats children and adolescents who, collectively, have a variety of diagnoses.
Below is a breakdown of the most common diagnoses treated by the program.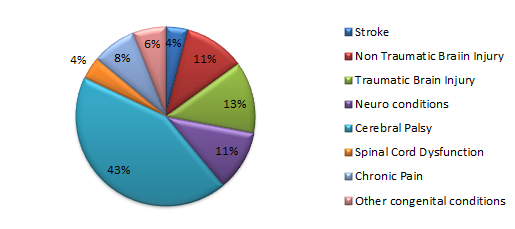 ​
​
Types of Patients Treated
The patients who come to the Specialized Transition Program have limitations in at least one of the following areas: communication (understanding and speaking), moving around, performing daily self-care activities, engaging in activities of daily living (doing chores, eating), and participating in home, school and community activities.
Interdisciplinary Treatment Team
Patients with a combination of limitations may have complex needs. An experienced interdisciplinary treatment team works with every patient and his or her family.
This inpatient team may include:
Assistive technology professionals
Neuropsychologists
Nurse care managers
Nurses
Occupational therapists
Physiatrists
Physical therapists
Registered nurses
Social workers
Special educators
Speech/language pathologists
Where do patients live who are seen by the Specialized Transition Program?
During fiscal year 19*, 68 percent of patients admitted came from the state of Maryland, with the remaining 32% coming from outside Maryland, including some from other countries.
How much therapy do patients being treated in the Complex Physical Rehabilitation receive?
School-aged patients in the Specialized Transition Program receive average of 3.4 hours of therapy five days a week, and preschool-aged children receive an average of 2.5 hours of therapy five days a week of intensive physical, occupational, speech-language pathology, social work, and/or psychology delivered by licensed/certified therapists.
In addition, patients enrolled in their local educational program receive educational instruction and/or special education consultation and school re-integration assistance.
What happens if a patient gets acutely sick or has a medical emergency while an inpatient at Kennedy Krieger?
Kennedy Krieger has a Basic Life Support-certified physician and/or a nurse on-site at all times when the clinic is open, with the equipment and processes in place to respond to medical emergencies. If a patient becomes more seriously ill, or has a medical emergency, care can be obtained at The John Hopkins Hospital Pediatric Emergency Department. If needed, an ambulance will be called for emergency transportation.
Occasionally, these more intensive medical needs require unplanned transfers to acute care. In fiscal year 2019*, fewer than 1% of patients in the Specialized Transition Program required an unplanned transfer to an acute care setting.
How are patients and their families involved in the care they receive from the Specialized Transition Program?
No one knows a patient better than his or her family. Kennedy Krieger providers are committed to incorporating family-centered care. The best way to care for a patient is to include his or her family in the patient's healthcare team. Family members are encouraged to participate in treatment planning, goal setting, family meetings, and education and training sessions.
How long do most inpatients receive treatment from the Specialized Transition Program?
Treatment varies from one patient to another, based on their needs and goals, In fiscal year 2019*, the average stay for a patient in the Specialized Transition Program was 25 days.
What kinds of improvements might patients receiving treatment from the Specialized Transition Program be expected to make?
92 percent of patient goals set for the duration of admission were met
The majority of patient/caregivers who identified longer term goals also showed significant gains
What do patients and their families say about their experience at Kennedy Krieger Institute?
98 percent of families expressed that their therapy program specifically addressed their child's needs
99 percent felt they were a part of their child's team
90 percent of caregivers expressed the highest level of satisfaction with their child's progress
94 percent of patients expressed that their therapist helped improve their skills
Does Kennedy Krieger have special accreditation?
Kennedy Krieger Institute is accredited by the Commission on the Accreditation of Rehabilitation Facilities (CARF) and The Joint Commission. Every three years, both organizations review the Institute to ensure all its programs meet or exceed the very high standards it sets for the care of its patients.

*Fiscal year 2019 is the time frame from July 1, 2018 – June 30, 2019.